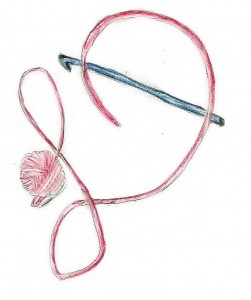 Wow after 4 other giveaways from the gift bag at the Marly Bird Designer Dinner at TNNA Summer Trade Show in Columbus, OH, there is still enough yarn to have 1 more!
The yarns for the final giveaway all have something pretty special about them. Like the Knit Picks Wool of the Andres. It has a beautiful heather of brown, and is created with 100% Peruvian Highland wool. It is not the softest yarn I have ever experienced, but it has great stitch definition and durability, great for outer ware or accessories. It is easy to see why many people use this as a "go-to" yarn.
Red Heart Boutique Infinity definitely is something special as well! It is a chain ply bulky weight acrylic/polyester/wool/nylon yarn. A chain ply is a yarn that is not strands spun together as basic yarns are, it is usually a single strand that worked like a crochet chain or like a knit I-cord. This is a very simplistic explanation, as the process for each company varies, but it should at least give you an idea. It has a little sparkle to it, and will work up quickly.
The yarns from Classic Elite Yarns are fitting the title. Inca Alpaca seems lush, with a nice hand and nicely saturated color. It offers great drape and I image would make some nice accessories, such as a shawl or gloves, maybe even a hat, but it can even work up as a nice sweater. While Fresco is comprised of wool/baby alpaca/angora is a lighter weight and softer than Inca Alpaca. It is quite yummy. They even have their own drawstring project bag, and who does not need another project bag?
This last gift bag giveaway definitely has some fun and interesting things to play with, and if you would like to sample the above mentioned, please leave a comment on this post by the end of Friday, July 31, 2015. One comment will be chosen at random with the winner announced the following day on my Facebook page and Twitter.