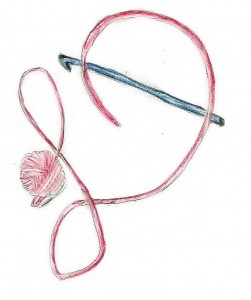 There is always more than one way to do things, and let's be honest we all want to know the easiest ones. In crochet this usually comes down to finishing work, not many people really want to weave in ends. So when looking for a quick project that meant that we often avoid work with multiple colors, yet I have a simple trick to share.
This trick works best with a two row repeat, meaning that the pattern has you repeating the same two rows throughout, like when you see "Rows 5-95: Rep Rows 3 & 4 forty-five times". This "rep 3 & 4" indicates a two row repeat.
Now if you change colors after ever row repeat, meaning work two rows of a color and then which to the next, that you will be changing colors on the same side of the work. Now if you use two colors you have a relatively small distance between these changes.
Instead of cutting the yarn and changing colors it is easy to pick up the color needed for the change and "carry" the yarn along the edge. You want to ensure that you do not pull the yarn too tight, or too loose, during these changes. The picture provided shows what I am attempting to explain.
So to finish off this technique you simply work an edging on the side. This can be a simple row of single crochets or something more elaborate, but you want something that will prevent theses "carried' strands from becoming snagged.
I find I work designs more like this in the "rush" time up to the holidays. I use to do a lot of one color projects, but now I want something that looks a little more stylish and intricate so I work these simple color changes to save the time on finish work. Less ends to weave in, means I finish that much faster.
See if it helps speed along your project.