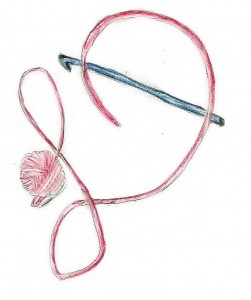 Sometimes we find inspiration for crochet in unusual places, sometimes it is just looking at a traditional method in a different light.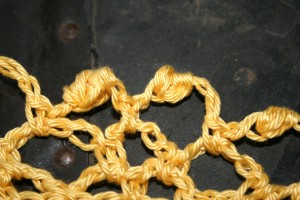 For me the Clone Knot is one of those stitches that I never really knew existed until I took a thread crochet class from Kathy Earle at a CGOA conference/Knit & Crochet Show a couple of years ago. The class on Irish Crochet really expanded my knowledge, I usually do not work with thread and tiny hooks, however I really have a new level of respect for those that do. I took some of my new found skills and applied them to my yarn crochet, and the clone knot fit into this very well.
The clone knot is essentially a multiple of loops placed on the hook and worked together creating a bump of material in the middle of a set of chains. It creates a unique textural and visual impact to open fabric work, and in Irish crochet is often worked in between motifs during the joining process.
To create this stitch, begin by chaining a couple of chains, then place the hook under the working yarn, rotate the hook 360° and place in under the working yarn again. Placing the hook under the working yarn and rotating the hook causes a loop of yarn to be placed on the hook and twisted to stay in place.
After working this motion a few times or the number indicated in the pattern, yarn over and pull through all the loops. Then chain a couple of more times, now comes the part of securing the stitch. Pull the chain taught and push the loops toward the working end of the chains. You should feel or hear a small pop; this is essentially that you are sliding the loops over the adjacent chain causing it to become secure.
This unique stitch does have a slight disadvantage to what you usually expect from crochet, it is difficult to rip back, as securing it makes the stitch more difficult, as it creates what its name implies, a knot.