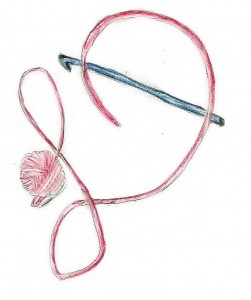 When I started out to write this post, I was thinking of the cold weather I was seeing on the news, and it made me think of the thermal stitch. I have always been a little intrigued with this stitch; it makes a double layer fabric and has the resemblance to long johns, with the little indented squares. But as I started writing, I realized that there were questions about the properties of this technique that I couldn't quite answer. So that is how I will preface this post, that it is a little beginning exploration for me with this technique.
Yarn over and pull through 2 loops
The basic premise of this stitch is that you work single crochet stitches in the front loops of the row as well as the back loops of the row below. Working the stitch into the foundation chain can be a little daunting, so to give you an understanding of the stitch I will begin on the second row of a piece of single crochet. The rows of single crochet will be offset from one another, this creates the setback, while pulling up the loop from a row below creates the edges to the "indented little square".
One of the main things to remember with this stitch is to insert the hook in the loop of the row below from the bottom, then insert it into the front loop of the next working row from the bottom. You then yarn over and pull through both loops (you might want to pull up a longer than usual loop), yarn over again and pull through the two loops remaining on the hook to finish the stitch. This will create a dense fabric, and if you want to have a little fun, you can alternate colors every row and get a double sided fabric (although there would be many ends to weave of leave it fringed).
One of the areas I plan on playing with is large hooks with finer yarns. In the small sample I started working with I was impressed with the draping I received as well as the slight openness of the fabric (made me think of springtime). Amazing how attempting to explain a simple concept can yet lead to more questions, and hopefully better understanding…I will keep you posted.