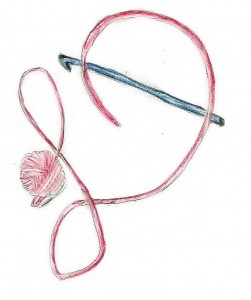 Classic Aran Fisherman afghans are ones that I have long admired. They are solid colors with panels of great textures like basket weave, cables, and popcorns, they always remind me of an almost formal bedroom type style, finished in fringe…well this could be the influence of the 1970's on my childhood.
I have made one of these traditional style throws several years ago. I remember being frustrated with the tension of my first panel with the rest of the afghan, as it was looser than the rest, resulting in one side being taller than the other. And since it is worked the length, there were to many stitches for me to justify ripping it back and starting again.
I decided to recreate a more modern feel of this classic style with my latest design, found in the February 2017 issue of I Like Crochet, the Book Club Afghan. This blanket is worked the length of the afghan, with "panels" of different texture, different textures of lace. There are three differing types of lace separated by simple stitches, and creating a classic feel. When it is finished it is finished with fringe creating a feel for the classic while being lighter and airier.
This blanket can still dress up any bedroom, but since it does not feel as weighted down with heavy texture it has a more contemporary instead of classic feel allowing for a wider range of uses. This blanket is great for kids, or a throw on the sofa, or even kept in the car for an impromptu picnic.
If you wanted to deviate from the solid colors, consider creating the "traditional" crochet stitches separating the lace in one color, and working the lace stitches in another. This would offer a dramatic appearance as color would embolden this already distinct design.
The lace stitches also help correct the problem of tension I had in my classic experience, as the lace is a bit more forgiving, allowing more stretch in the stitches and reducing "accidental growth".
I hope you enjoy working it as much as I did.