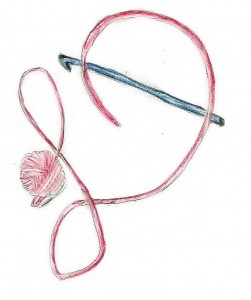 Often it is just a subtle texture that can give a great effect on a fabric. This little stitch, which I refer to as a berry stitch, is quite effective in this regards.
This stitch is essentially a single crochet and a chain 3 loop. The chain 3 loop is worked between the stitches, then pushed to one side of the fabric. This enables the fabric to have a little more stretch, and a very gentle little "bump" of texture. The chain loops can also be worked between larger stitches, however the loose a bit of their "bump" effect as it basically squeezes the loop in the space between the tall stitches. The single crochet is a shorter stitch so the chain loop is pushed outward.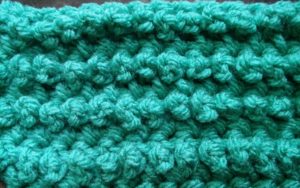 This chain loop can be worked between every stitch, as I did in my sample, it can be worked every few stitches. Working every stitch creates a row that reminds me of little pearls, but this stitch can be worked so that it would be a staggered bead of these little pearls instead of a row. These loops are typically worked in one row and the next row is worked without the loops. This results in a fabric that only has bumps on one side. There is nothing that forbids working this stitch on every row, I just find that in my purposes I prefer it only on one side.
I have used this stitch several times, often I use it in floor mats or the soles of slippers. I also find that I really like it in baby blankets. One of the things that I find nice with this stitch is that for slippers and mats, is that the extra stretch in the stitch gives it a very soft, fluffy, almost pillow like quality. That then is not only attractive to look at, but it is also very functional.