What a month…just last month I was working the last 2018 square for the Moogly CAL…now I am working up the second square of the Moogly 2019 CAL! Check out all the squares for 2019 here, and the 2018 square here.
I feel very privileged to be able to share with you this latest design, the Festive Julie Ann Square. Inspired by my student Julie Ann, who loves to work in the round, and makes a festive atmosphere where ever she is going.
The square uses long post loops, to create a stunning color play of the eye. Working this square for some reason always makes me think of flowers, I guess that is one of the reasons I see it as festive.
Festive Julie Ann by Linda Dean
Bring in the New Year with a bright star of festival with this square that elongates some post stitches to create a planned bleeding of the colors.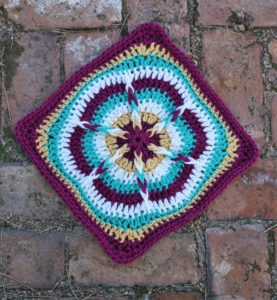 Materials:
*Red Heart With Love, #1907 Boysenberry (A), #1207 Cornsilk (B), #1101 Eggshell (C), #1562 Jadeite (D)
*Hook J/10/ 6.00mm
Gauge: 12"x 12" square (30.5 x 30.5cm) –After Rnd 3 you should measure approximately 4″ (10cm)
Long Loop Front Post Double Crochet (LLfpdc): Working over post stitch of previous round, YO, insert hook around post of stitch  2 rows below from back to front and right to left, YO, pull up a loop about an inch in height, (YO, pull through 2 loops) twice.
Note that you will work a double crochet and a post stitch in the same stitch.
Rnd1: With A, ch 4, 11 dc in 4th ch from hook, join to top of beg ch. -12 dc
Rnd 2: Ch 3 (counts as a dc, now and throughout), fpdc in same st, 2 dc in next st, [(dc, fpdc in next st), 2 dc in next st] rep around, join. -18 dc, 6 fpdc
Rnd 3: Change to B, ch 3, dc in next st, LLfpdc in same st as last, dc in next st, 2 dc in next st, [dc in next 2, LLfpdc in same st as last, dc in next st, 2 dc in next st] rep around, join. -30 dc, 6 LLfpdc
Rnd 4: Change to C, ch 3, dc in next 2 sts, LLfpdc in same st as last, dc in next 2 sts, 2 dc in next st, [dc in next 3, LLfpdc in same st as last, dc in next 2 sts, 2 dc in next st] rep around, join. -42 dc, 6 LLfpdc
Rnd 5: Change to D, ch 3, dc in next 3 sts, LLfpdc in same st as last, dc in next 3 sts, 2 dc in next st, [dc in next 4, LLfpdc in same st as last, dc in next 3 sts, 2 dc in next st] rep around, join. -54 dc, 6 LLfpdc
Rnd 6: Change to A, ch 3, dc in next 4 sts, LLfpdc in same st as last, dc in next 4 sts, 2 dc in next st, [dc in next 5, LLfpdc in same st as last, dc in next 4 sts, 2 dc in next st] rep around, join. -66 dc, 6 LLfpdc
Rnd 7: Change to C, ch 3, dc in next 5 sts, LLfpdc in same st as last, dc in next 5 sts, 2 dc in next st, [dc in next 6, LLfpdc in same st as last, dc in next 5 sts, 2 dc in next st] rep around, join. -78 dc, 6 LLfpdc
Rnd 8: Change to D, ch 1, sc in same st, [sc in next 4 sts, hdc in next 3 sts, dc in next 2 sts, (dc, ch 1, dc) in next st, dc in next 2 sts, hdc in next 3 sts, sc in next 6 sts] rep around, join. -40 sc, 24 hdc, 24 dc, 4 ch-1 sps
Rnd 9: Change to B, ch 1, sc in same st, [sc in next 7 sts, hdc in next 2 sts, dc in next st, (dc, ch 1, dc) in ch-1 sp, dc in next st, hdc in next 2 sts, sc in next 9 sts] rep around, join. -64 sc, 16 hdc, 16 dc, 4 ch-1 sps
Rnd10: Change to A, ch 1, sc in same st, [sc in next 9 sts, hdc in next 2 sts, (dc, ch 1, dc) in ch-1 sp, hdc in next 2 sts, sc in next 11 sts] rep around, join. -80 sc, 16 hdc, 8 dc, 4 ch-1 sps
Rnd 11: Ch 1, sc in same st, [sc in next 10 sts, hdc in next 2 sts, (dc, ch 1, dc) in ch-1 sp, hdc in next 2 sts, sc in next 12 sts] rep around, join. Fasten off. Block. Weave in ends. -88 sc, 16 hdc, 8 dc, 4 ch-1 sps