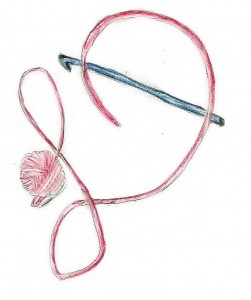 Thank you to ELK Studio for putting together this Make it For Me event! what a nice way to kick off the new year, after months of crocheting gifts for everyone else it is time to rejuvenate and focus a bit more inward and create something for you! (Check out the entire list of month long projects here)
I am thrilled to be able to join this event with my Cathy's Classic Handbag. It is made with less than one skein, so you can reach into your stash. I even provided two options for handles…I really like the wooden round handles, but reality…I enjoy crocheting and getting to the craft store or even ordering on line means I am not finishing it the same day I start, so I provided a crochet handle option too. (If you want to learn how to attach the wooden handles, I have some instructions to help you here).
This handbag was inspired by one of my students. Cathy always has a smile and carries herself with a rural, country chic charm. She brightens the room no matter what her day may have contained, and to get all dressed up I could see her with this classic style.
Cathy's Classic Handbag by: Linda Dean
A classic handbag that is fast to work up and has a lot of charm. A bit of stretch and a bell shape add to this great purse. With optional handle options you can utilize a simple round wooden handle or crochet your own.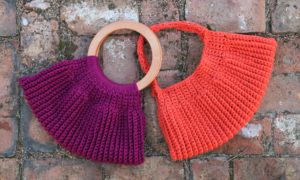 Skill Level: Advanced Beginner
Finished Size Approximately: 7"x 16" (18 x 40.5 cm)
Gauge: 12 sts /16 rows=4"
Materials List:
K/10 ½/6.50mm size crochet hook
Red Heart With Love medium weight 100% acrylic (370yds/338m/7oz/198g) Sample color: 1907 Boysenberry or #1971 Tigerlily
Tapestry needle
Everything Mary Round Wood Handle (optional)
Abbreviations:
blsc: back loop single crochet (need help identifying the back loop, check this out)
ch(s): chain(s)
rem: remaining
rep: repeat
sc: single crochet
sp(s): space(s)
st(s): stitch(es)
yo: yarn over
Pattern Notes
The body of the bag is worked from one side across the bottom to the other side.
The body of the bag is worked with short rows.
The handles of the bag are attached to the row ends of the bag.
There are 2 options provided for handles.
Row 1: Ch 45, sc in 2nd ch from hook, sc in each ch across, turn. -44 sc
Row 2: Ch 1, sc in next 5 sts, blsc in next 34 sts, leaving rem sts unworked, turn.  -39 sc
Row 3: Ch 1, blsc in next 34 sts, leaving rem sts unworked, turn. -34 sc
Row 4: Ch 1, blsc in next 34 sts, sc in next 5 sts of the row 2 below, turn. -39 sc
Row 5: Ch 1, sc in next 5 sts, blsc in next 34 sts, sc in next 5 sts of the row 2 below, turn. -44 sc
Row 6-61: Rep Rows 2-5 fourteen times.
Wooded Handle Attaching (Option 1)
Working along the row ends, sc around the wooden handle, working 32 sc across edge. Fasten off. (For tips on how to work around the handle, check out this tutorial)
Repeat on opposite side.
Crochet Handle Attaching (Option 2)
Ch 1, working along the row ends, 4 sc in first row end, working in a spiral (meaning that you are working in the round but are not joining the round, you continue working in the next stitch) to create a cord, blsc in the first sc worked in the end row, blsc in each sc until the cord measures about 14" (35.5cm), sl st to opposite end row from the beginning of the cord, sl st next 3 sts of cord to same st, sc in each row end across to beginning of the cord, fasten off.
Seaming
Folding handles together, whip stitch the open ends of the purse leaving between 1-2" open from the handles.
Weave in ends.