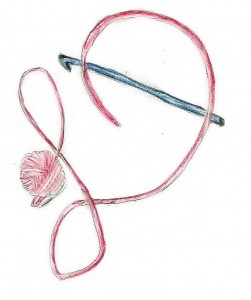 I was thinking about a simple stitch for an afghan, and my mind kept coming back to a simple cross stitch. It is made up of double crochet stitches that are, as the name states, crossed. To this stitch I work a chain in any even number, and add 1.
Row 1: Single crochet in the second chain from the hook and in each chain across, turn.
Row 2: Chain 3 (this will count as a double crochet, and not be crossed, this is the edge), [skip the next stitch, double crochet in the next stitch, now double crochet in the stitch that was skipped] repeat across, double crochet in the last stitch, turn.
Repeat Row 2 until desired length.
Final Row: Chain 1, single crochet in each stitch across.
This creates a lacy type of fabric, and works well in a wide variety of yarn types. It is a simple texture as well, creating many options of feel. One of the reasons I enjoy this stitch is that once it is set up, it almost becomes a mindless stitch pattern, since it is really pretty simple to see if I made an error, thus I do not have to count my stitches.