Linda Dean is a long time, self taught crocheter, a Professional member of the Crochet Guild of America (CGOA), a Master in Advanced Stitch and Technique, Fundamentals and Basics (by CGOA), a Certified Instructor/Teacher with The Craft Yarn Council (CYC), and serves as a Past President of the Board of Directors as well as the Chairperson for the Masters Committee with CGOA. You can find her published designs in various outlets, as well as self published. You can find her teaching at local yarn stores and national/regional conferences.
She lives in the foothills of the Sierra Nevada Mountains in California with her husband and two children, on a small farm. Internet access is limited, so so doesn't post to the blog daily, but you will find inspiration a couple of times a week.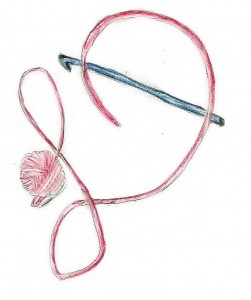 This blog will highlight the journey that Linda has taken in the world of professional crochet, and hopes to help you find inspiration to follow the opportunities that may be presented to you in your life.
Check out her interview with Crochet World Magazine in January 2015, here. Or her interview with the Crochet World Blog in August 2016, here.