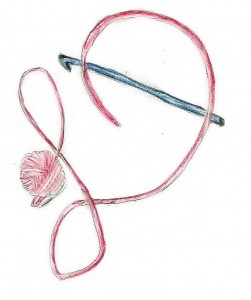 Looking for something different to crochet with? Want something with a little stretch and great stitch definition? Well Red Heart Strata comes to mind.
This 76% acrylic, 24% nylon…well for lack of a better term….yarn, can fit the build. Strata is actually a more like a knit fabric, but it is not any cut strips like some T-Shirt yarns, it is a knit tube around a soft fill. This tube filled with fluff, creates a "yarn" that has some body and does not lay flat on itself when used. As the encasing is knit in what appears to be the fashion of an I-cord, there is no seam, no fray edges, just a smooth round pliable material.
The stitch definition with Strata is very impressive. The unique structure of this "yarn" with the soft roundness of the strand allows parts of your stitches to become more visible in a sense, causing a different appearance with even every day stitches. By this I mean that even a fabric of just simple or double crochet will look like there is great texture. It allows every yarn over and every pull through an opportunity to stand out on their own, and almost seem separate from the overall body of the stitch. I think this gives crochet a fun opportunity, as with minimal effort you can get a fabric that has a textured feel.
This is definitely a "yarn" to be worked on large hooks and needles, as even through it feels like a more medium weight, it works up as a bulky. This allows for fast projects, however with the small yardage per ball, just 95yrds/86m, you may require more skeins that first imagined to complete a desired project.
I can easily envision household items with is "yarn", like towels or trivets, potholders or mats, maybe even a nice bath robe or pool side cover up. With the overall tendency of this "yarn" to seem heavy, and stretch, I would caution garment construction in most cases.
Overall though an interesting "yarn" that can offer a lot to the imagination.