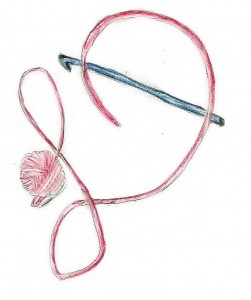 I love simple stitch patterns that really look much more difficult than they are. My latest design the Wine Country Throw in the October 2016 issue of Crochet World Magazine fits this description.
When I originally came up with this design I referred to it as "Titter Tat" because the stitches had such a back and forth feel to it that was like seesaw, but the current name of Wine Country is pretty fitting since I am surrounded vineyards. Even as I type this the harvest known as the "crush" is happening as the wine making process is beginning. Sitting back on my screened porch wrapped in this throw is now a great way to end the fall day.
The way the stitches come together, almost has you believing that they are working in opposite direction yet it is simply where the stitches are worked. This also causes the fabric to have an incredible amount stretch.  The edging is what ultimately creates a bit of drama to this piece, as it adds a lace quality and feminine charm, by changing the border to something more solid, such as a couple of rounds of double crochets and this throw has a completely different feel, something a little more masculine, a little more modern.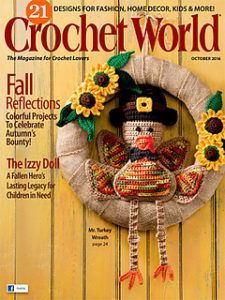 I have to admit that this project works up pretty fast, as it is a worsted weight yarn with a relatively large hook. I know this first hand as I had to rework the pattern a couple of time to ensure the correct size of the finished sample. The stretch of the fabric was misleading my gauge, and thus had me creating throws that were a bit too small. I tore it back and reworked it at least three times before it became what I had envisioned, but in doing so it helped me understand the stitches more, and I am think the end result is definitely a good one.