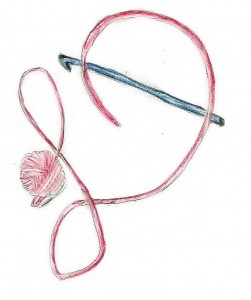 Many years ago I taught myself to crochet, I remember seeing the "Afghan Stitch" in the book I was using, but I was never interested in doing cross stitch embroidery, so I never looked at it too long. Then several years later I was taking a free form class and the teacher mentioned using some Tunisian Simple Stitch in the piece for fun.
Well what I remembered of the stitch, insert you hook, pull up a loop, repeat, and then work them all off, so I proceeded to do just that. What I was not paying attention to was working behind the vertical bar; instead I worked between the vertical bars, you know that space that somewhat reminds me of chain space, and pulled a loop up. Later I realized my error, but I was sure that I was just doing a different stitch, however when I began looking around for the name, I couldn't quite find it.
I searched on-line and through various books, and found some different names for it. Some called it "net stitch", others "Basic Stitch", and as Tunisian Crochet is becoming more mainstream and the terms more universal I have finally found it; the "Tunisian Full Stitch".
As I stated earlier there the stitch is worked between the vertical bars, but there are a couple of things to keep in mind. Since the stitch staggers on either side of the stitches below, you need to make adjustments at one side or the other of the fabric, or you will be making a piece that is not square. To make this adjustment on the beginning of one row you work a stitch immediately in front of the loop already on your hook, and end that row pulling up a loop in the last space between vertical bars. Then work the usual Return Pass (Chain 1, *YO, pull through 2 loops; rep from * across, until 1 loop remains). On the next row, you skip the space immediately next to the loop on the hook, and work in the rest of the spaces between vertical bars to the end of the row, insert hook in the chain-1 of the Return Pass below, YO and pull up a loop, then work the Return Pass again. Alternate these rows throughout the fabric. You will notice that the side that the Return Pass is begun, the edge will not be perfectly straight and this is normal, as you are adjusting a stitch to the last stitches every other row.
I personally really like this Tunisian Stitch, I am not sure if it is because it is the stitch I stumbled upon early on, or if it is because it does not give you a set straight line appearance but pulls the eye diagonally instead. The fabric does have a lot of stretch with this stitch and I find that useful in many designs, not to mention it is a fairly forgiving technique.