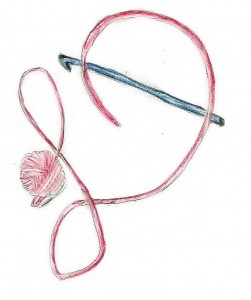 I love the challenge of creating a single skein project, sometimes it lends itself to a fantastic idea, and sometimes it is just a practice of futility. However, I think this latest design is the former.
Scarf in a Loop is a simple attempt at Bruges Lace. Bruges Lace is a classic technique that essentially crochets a ribbon of narrow crochet stitches with chain loops on its edges. These chain loops allow the ribbon to be bent and twisted, while joining these loops together. So basically if you can draw the line of a ribbon you can create the design in crochet. This scarf pattern is drawn as a ribbon in a simple oval.
The one drawback to Bruges Lace patterns is the number of rows involved. Often a pattern can seem intimidating when it lists hundreds, if not thousands of rows. So keep in mind that these rows are often only a couple of stitches wide.
One of the things I really enjoy with Scarf in a Loop is the way the color moves. The yarn, Lion Brand Unique, has some nice color changes and this design really highlights this. It is a bulky size yarn so it works up fairly fast, and has a nice weight.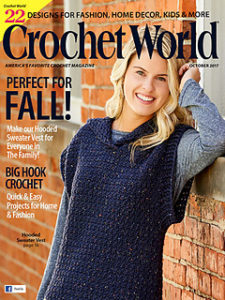 Crochet World, October 2017, decided to feature this design and I think it is great as a gift for the upcoming holiday season, or simply for a quick accessory to keep warm during this ever cooling season.