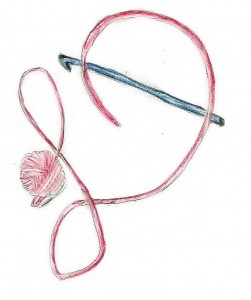 The use of doilies has decreased, you do not see them resting on as many table tops or vanities as you may have in the past, but that does not mean that their beauty cannot be enjoyed. I have a couple hanging on my wall, I have seen some worked up as window valances, and even pieces together as a jacket, but there are a few other more impressionable ways they can be used.
I enjoy how my son has managed to be inspired by crochet and apply it in a different way. He has been playing in pottery and creating bowls and figurines in a local 4H project and one of his vases will leave a lasting crochet impression.
Using a small crochet tablecloth he placed an impression in the soft clay before completing his vase. He only used the center to create an almost flower like pattern. I have seen this done in other ceramic pieces, some artists have used doilies to create various textures in their designs. I have even seen pieces that use the doily as the art by encasing it in glass, like a bowl or glass, to highlight the effect of crochet stitches.
When my son worked the glaze for his vase, he highlight the crochet design a bit more by having the color radiate out from its center. I was surprised he used this approach to his project. He enjoys my crochet, but I never thought that he would incorporate it into any of his crafts.
I hope that he attempts a couple of other crochet stitch patterns, and I will admit I have suggested a few. His use of a table cloth has inspired some ideas within my own mind, of how I might be able to incorporate crochet in my metal working class, for instance. There is a large world of craft and crochet can fit nicely in many different artistic ways.