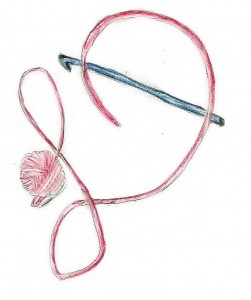 It is almost time to admire the spring flowers, almost time to see the final thawing of the ice and snow for the season, a time when the days begin to warm and that restless spirit to be in the sun stirs in us. My home has seen a hint of spring this week. The weather has warmed and the daffodils have begun to bloom.
I tend to really enjoy seeing the daffodils, I never think of them as my favorite flowers, but they add such a nice harkening of s seasonal change with a bright yellow (or white) splash in the green hill side out my kitchen window.
So I found some scrap of yarn and crocheted an open mesh, for lack of a better term, "bag" that I slipped a mason jar into. This is the perfect for hanging a jar of flowers. My latest jar is hung at the entrance to my screened porch, it is a simple project that adds a definite bright spot in my day.
If you would like to attempt this hanging vase yourself, you can begin with a chain circle (creating a loop), then work a double crochet, chain nine and double crochet in the loop again. Work a few of these chain spaces, then begin working in the chain spaces created, making a mesh, until it is as tall as you would like it. Fasten off the yarn, and then create a length of chain about 12-18" (30-46cm) long. Weave this chain through the last round of chain spaces created and slip in your jar. Tie the chain tightly just under the brim. With the remaining length of chain tie a loop for hanging. It is as simple as that.
You could probably create this with just a simple long chain tied under the brim of the jar, however it always makes we a little fearful as I am concerned about the lack of support at the base, so I make this "bag" effect. Either way, I think this is a fun way to bring about spring.