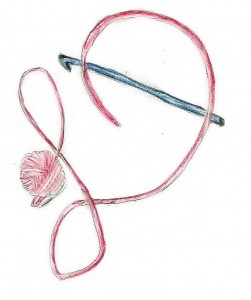 My latest design! Aim to Squeeze Pink Lemonade Blanket is a great baby throw that just screams summer. Find it in the June 2018 issue of I Like Crochet.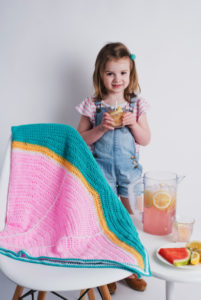 It is worked as a half circle and then is squared up, to highlight a half of a pink lemon slice. I will admit, I really did not know that there were such things as pink lemons, not until I undertook this project. The colors are fabulous together, highlighting a yellow rind, sandwiched between blur and pink, then accented the white.
This is a fun project that keeps you engaged, while still allowing you to enjoy yourself. Working the half circle creates all of the lemon segments, you then add the peel and begin to square it up with the blue back ground. You then work the rind between the segments and sit back and relax with a glass of lemonade.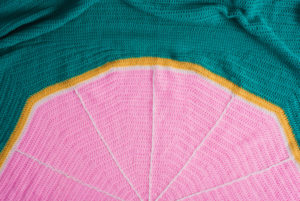 The yarn is Baby Soft by Lion Brand, so it is easy to find, and the colors always go so well together. It is soft and nice to work with.
If lemons are not your thing, I could easily see this as an orange, a grapefruit, lemon or lime. Any citrus can be worked into this design, making it a bit versatile.
I really like the large size of the half slice, as it really encompasses most of the dimensions of the throw. This really offers great visual interest, and makes for a very appealing addition to your home, or kids room.
This is noted as a kids blanket, but personally I like it myself as a nice lap afghan, it is a nice size and helps just take the chill off, or when I am on my patio it helps block the sun without being to hot.
I had a fun time with this project, and I hope you will too.