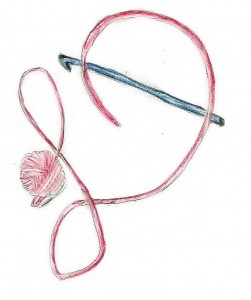 I have long found that using a fine weight yarn and a large crochet hook can create some stunning effects, and my latest design is no exception. The Crisscross Mess Top can be found in the Spring 2018 Special issue of Crochet! Magazine Boutique Style Crochet and I think that you will really enjoy it.
The yarn used for this design, Juniper Moon Farm Zooey DK, is a cotton/linen blend at 60%/40% respectively. It has a slightly uneven texture, being that it is a bit thinner/thicker in some places then others, but not drastically. It is not necessarily the first yarn I would have thought to design with, but I am very happy with the results. Find a more in depth review and thoughts of this yarn from my post in June 2017, here.
The design for this top is really pretty simple. It is rates as easy, and honestly….it is. Basically the large hook and fine yarn do all the work. You simply work 2 different size rectangles, and sew them together, then add sleeves. It only utilizes one crochet stitch, so it is pretty straight forward, yet has a really nice effect. There is no need to worry about shaping, or anything of such, the sleeves use what is referred to as short rows. Short rows are basically the act of not finishing a row, leaving stitches unworked, then when returning to work a row in the same direction you then work the unstitched stitches. Basically if you have 10 stitches in row 1, you work 5 stitches in row 2, as a result there are 5 stitches in row 3, then in row 4 you work the 5 stitches of row 3, and the 5 unworked stitches in row 1, resulting in 10 stitches. Really this is the only technique in this design that is not "repeat Row 2".
To help the fabric open up, I actually hung it up when I blocked it. The weight of the wet fiber helped pull the stitches open even more than the stitches themselves. This helps give it a casual chic look. However it is definitely not a "wear it alone" type of top. You want to have something underneath, so that effectively makes this a statement type piece.
So if you are looking for a bit of a current fashion statement, give this design a try.