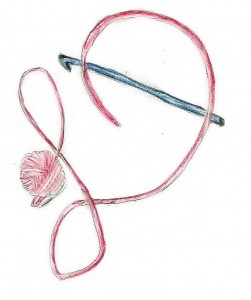 So with June finally upon us, dreams of warm weather and vacations dance within our minds, at least for the most part.
My design and article in the Summer 2015 issue of Crochet! Magazine, about Yarn Dyeing with Kool-Aid will definitely foster new summer memories!
With simply water, wool yarn, Kool-Aid packets, vinegar, and a little heat, you can create fun moments with children and custom yarn to create your own projects. Speaking of projects, my Easy & Bright Market Bag is designed for beginners, and allows you to highlight the yarn that you created in the article! If you choose to forgo the dyeing, this bag can be created with any yarn and then accompany you to the farmers market, the beach, and the kids' sports games.
If you want to take a look at Dyeing Yarn with Easter Egg Dyes, check out the post I did a while back, it makes for some fun too!