Some say it is too hot to crochet, but I have always found the summer months my most productive time of year. I should preface that I do not have any air conditioning. I know that some might see this and think that I must be in some Nordic part of the world, and while I live in a climate that affords me cool nights and hot days, my summer temperatures can easily find a month of temperatures over 100° Fahrenheit (38° Celsius). So, let me share some of my tips.
Stay Hydrated
I keep a glass of water or iced tea near me at all times. I have a pretty bad habit of getting really involved in "just one more row" to the point that I can miss meals, so having a beverage at the ready really helps me have no excuse to not get a drink. It is pretty easy to hold the project and get a sip.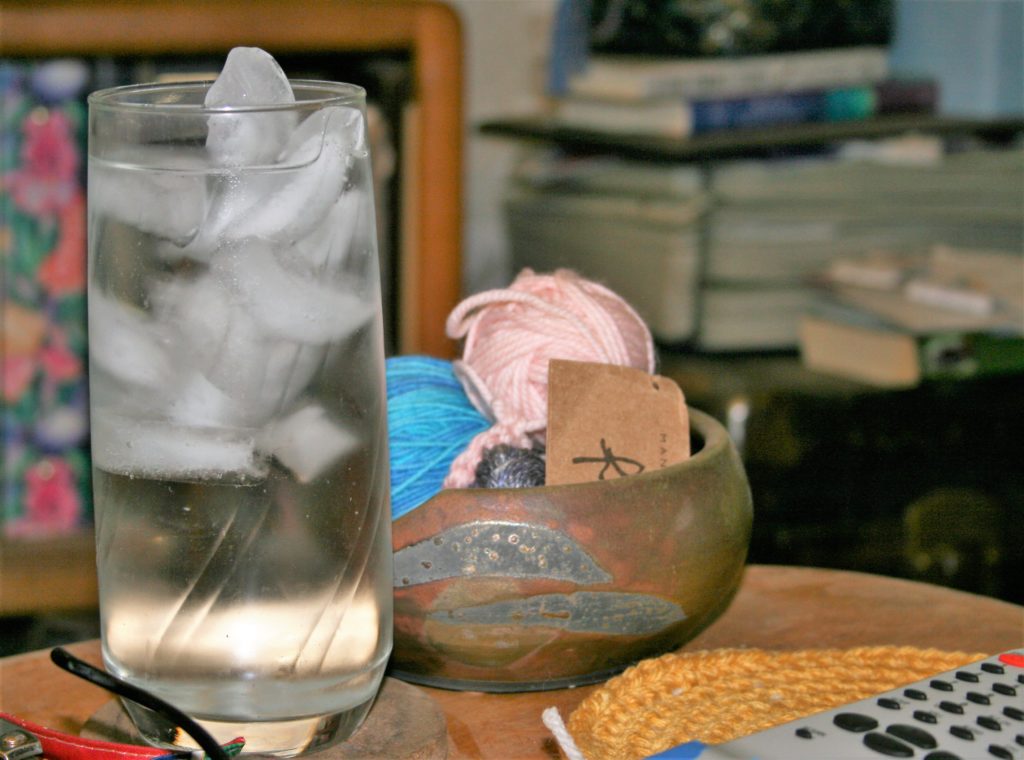 Lotion if Needed
Since I live in an area with very little humidity, I need a good lotion to keep my hands smooth and feeling good. I have found that I like some wax based lotions that are in a solid form, like lotion bars. However I have also found success with thick medicated lotions. Basically anything that absorbs into my skin and does not feel like it is just sitting atop my skin.
Find the Shade
Honestly, I probably am in doors with most of my stitching, but venturing out in the heat of the day means that I am finding a nice piece of shade. If the location has a bit of a breeze even better. In addition, I am usually wearing a hat and sporting sunscreen.
If at all possible I make sure that I am out of the car. Sitting in the car and crocheting might be a necessity for me in some instances, but if I can get out of the car and get into fresh air it helps.
A Well Placed Fan
Putting a fan about 6-10 feet away and directed at me, is all I really need. If it oscillates, it is even better. This air movement helps to keep me comfortable, even while finishing a king sized afghan.
Check your Yarn
I tend to avoid using yarns with a lot of halo, or "fuzz" when the weather turns hot. I prefer a smooth yarn. Although this is probably more of a mental thought of what is cooler to work with than a reality. I just think that as the yarn slips smoother through my fingers, the easier it flows the cooler I feel.
I think that looking over my list I realize why I am so productive during hot weather….I basically find a place and stay there, I stay in a seat, with a fan blowing and a cold drink, in the shade while pampering my hands a bit. This makes it easy to work on projects, and beat the heat.