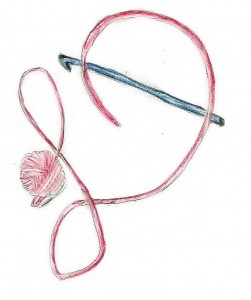 Some yarns always inspire me, some always tell me what they want to be, others, well maybe not so much. Cotton Classic by Tahki Stacy Charles is one of the former, it can always find a design in my mind.
Cotton Classic is 100& Mercerised Cotton and this sometimes causes people to pause. The term cotton is generally understood, it had a great marketing campaign throughout the 1980's about how it is a naturally grown product that lets the fabric breath. Cotton also is stronger when wet, has limited stretch, and many think of it shrinking when first washed. This first wash shrinking, is not like felting of wool, this is essentially because cotton, being a short in length fiber, has more "twist" worked into the yarn in order to hold the fibers together (if a strand is long it does not need to be twisted together as much to hold, while something short needs to have more twists to ensure the hold) this puts a lot of tension on the fiber. When the yarn (of cotton shirt) finally gets fully submerged in water it actually allows the fiber to relax, this allows it to release the tension, and this caused the fiber to contract. So cotton will only shrink in the first washing whereas wool will continue to shrink with washings.
The term that confounds many is Mercerised. Mercerised is a process that removes the slight halo effect that can accompany a cotton fiber, this is essentially the tiny ends of the fiber protruding from the yarn. To Mercerise the yarn, or thread is brought over an open flame to burn off the fibers. This creates a yarn that has a nice smooth finish that has great stitch definition. Another side effect of this process is that it does not allow the cotton to absorb water as is normally considered. Thus Mercerised Cotton is not recommended for dish clothes, where regular cotton will work wonderfully.
I find Cotton Classic is wonderful for warm weather projects, dressy scarves, home décor items, a great market bag. I even love it for tank tops and cover ups. This yarn has a wide arrange of colors available, and it shows of lace work stitches and textural stitches fabulously. It comes in small hanks of 1.75oz/50g with 108 yds/100m. It is a light weight and has nice drape on larger hooks.
Consider it for your next summer weather project, and don't worry about this cotton reminding you of a dish rag.