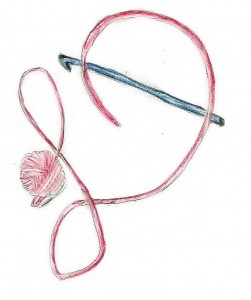 What some may not realize about my yarn reviews…they are really just for me. Yes, I am a bit selfish. However I have found that by reviewing a yarn weekly, it helps me hone my skills. Don't get me wrong I hope you, the reader, gets some insight too, but I helps me focus on a fiber that I have in my working stash and imagine its possibilities. So you will see me discuss the fiber content, as this can really effect the drape and performance of the yarn, I also will remind myself of how it feels and if it works up well. I note the weight and length of the skein so that I can keep a mental note of how many skeins it would take to work up a desired project.
I recently travels to a yarn trade show. There are many various companies and different yarns to touch hold and get inspired by. Honestly, it can be a bit overwhelming, but it has provided me with some new yarns to critique and make notes about, such as Batiste from Knit One Crochet Too.
I cannot say that I have ever worked with yarn from this company before, I have seen it and heard the name, but never had the pleasure of crossing paths with a skein before. Batiste is made up of 50% fine merino wool 30% linen and 20% silk. The soft nature of the merino really shines through, while the linen offers a bit of a heather appearance in the color. The linen also offers the yarn a bit more structure and can allow the fabric to appear wrinkled or creased if put under pressure.
Even with the heathering it still has nice stitch definition, showing texture a bit more subtly than some yarns, but still very nice. It is listed as a Fine weight yarn, but I felt really comfortable using a 5.00mm hook (size H/8) so it didn't feel at all too fine.
I can easily see this worked up as a garment or accessory close to the skin. The hank has a decent size with 208 yards/190 meters at 50 gram/1.75oz, so a small light shawl might take only 2 hanks, but I would prefer to use at least 3 to get a nice size.
Overall, a nice yarn that spurs some ideas. If you want to check out more of my yarn thoughts select the "Yarn Play" under the website categories.