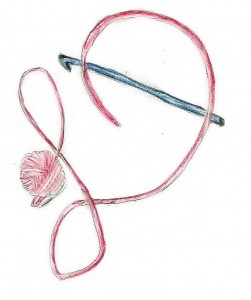 Working in the crochet industry has given me several opportunities. I have been able to meet wonderful people, I have inspired others to create, I have had the done some traveling, and I get to sample new products. It is from these opportunities that I have a giveaway for you!
I have checked out the products of Unicorn Fibre, they make fabulous cleansing products for natural fibers. They are gentle, yet effective with a clean scent. I have a set of cleansers; Power Scour, to remove stains, odors, oils, and even can be used to wash raw sheep fleeces. Fibre Wash, for gentle cleaning with no yellowing effect. Fibre Rinse, to reduce "itch" factors, reduce dye loss, and leave fabric just yummy. Included in the set, a complimentary Unicorn Fibre Baby Unicorn, just cute and cuddly to make you smile.
The products are designed for hand or machine wash, and work with hard or soft water. They are easy to use, and the Fibre Wash and Fibre Rinse can make blocking a dream. These are definitely products that can enhance any of your natural fiber creation.
So why is it important to treat natural fibers delicately? It has to do with the chemical makeup of the wool and hair that are mostly comprised of: carbon, hydrogen, oxygen & Sulphur, (it is Sulphur that attracts moths). Natural fibers are more likely to break down in chemical washes that interact with these properties. An easy way to think of this is as your own hair. Different hair care products can have very different effects on your head, and the same is true with natural fibers (wool, alpaca, and such).
So to have your own opportunity to check out these cleansers, simply leave a comment on this post before Wednesday, November 2, 2017 midnight PST. I would love to hear about your favorite natural fiber, or cleansing tips you might have, but any comment will get you entered. One lucky winner will be selected randomly on November 3, 2017. If you don't happen to be selected, give yourself a treat and check out Unicorn Fibre products (you can find them here).