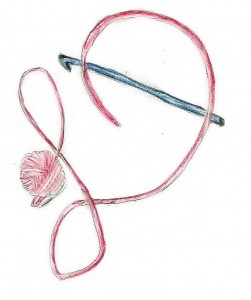 I have tended to notice in recent years, just how much my hands dry out over the course of a day. Granted it may not actually be anything new, but having your hands in yarn all day and dry skin can become a little obvious.
To begin with those fuzzy yarns, like mohair and the like, tend to find areas to snag upon. There is something a little telling about moving your hand and having your yarn follow you when you were not expecting it to. 
At a recent trade show I had an opportunity to check out a lovely lotion bar, Love & Leche (formerly as Milk & Honey). Now I will admit, lotion in a bar is not something that I grew up with. I am completely use to lotion in a tube, lotion in a pump, bars that was for soap. However the combination of placing lotion in a bar provides something unique. With traditional lotions I am always attempting to find one that does not feel greasy, that absorbed quickly, and actually felt like it was doing something. This is a tall order, but as a bar this lotion seems to do everything.
The lotion comes in a nice little tin, and comes in a wide selection of scents that offer aromas from soothing to refreshing. The primary ingredient is beeswax, followed with coconut oil, almond oil and essential oils. These elements of nature come together to make a very nice, soothing, product that I recommend for soft feeling skin.
I am fortunate enough to have the opportunity for one lucky individual to try it for themselves. I have a Limited Edition Citrus-Rose Valentine's Lotion Bar, with a generous size of 2.5oz, a heart emblem, in a tin. To enter all you have to do is leave a comment on this blog post about some of your favorite things to use on your skin by midnight PST on February 9, 2016. One comment will be chosen at random the following day.
Check out Love & Leche for yourself, they are offering the Limited Edition Valentine's Bar until the end of February, so you might find something for that special someone.