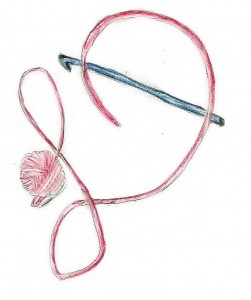 Following the world of yarn can lead to some interesting adventures. Last week I attended the National Needleworks Association (TNNA) winter trade show, which is established to allow yarn, thread, needlepoint, and any other related manufactures and supplies to be in one spot and show their new wears to potential buyers. This show was in Washington D.C. and was as it usually is, a complete whirlwind.
I saw many yarns, met many people, and left exhausted and overwhelmed. I hope to see some samples of the products I checked out at my home soon, so that I can get more equated with them, and share my thoughts with you.
I was able to meet up with my college roommate for dinner, which was an added trip bonus. I was able to meet his lovely wife, while catching up on old times. Amazing how 17 years can pass between meetings, but we can pick up on conversations like they were yesterday.
I also was fortunate enough to take part in a needle works tour of the National Cathedral. I did not get to complete the tour, as I needed to get to the airport for my journey home, but the part that I saw and heard was wonderful.
Now this is where the real adventure of my trip began, and definitely made a lasting memory. I got to Dulles airport, and was surprised to find no lines at security, nor real bad traffic in getting there for that matter. Then I learned that my flight to Denver was delayed, first 30 minutes, then an hour, ultimately it was delayed an hour and a half. It was still enough time to meet my connecting flight in Denver, so I didn't think too much of it, until landing in Denver and realizing my connecting flight to Sacramento was cancelled. I had never had to deal with this in travel, so I guess I cannot complain too much.
I learned that by the time that my flight landed 30 flights had already been cancelled, and that was just by my airline. Apparently Denver had been under tornado warning most of the afternoon and evening. No hotels rooms were available, and it was well after midnight, so I began to find a quiet place to sleep, under a set of seats, and posts a picture of my sleeping arrangements to Facebook. About an hour later, after getting the usual 15 minutes of possible sleep, I checked my phone to find that a post was made just a few minutes earlier from a colleague and friend asking why I hadn't given her a call. I did not realize that she lived so close to the airport, and after some back and forth, Marly Bird, the podcaster, designer, and Red Heart Ambassador came and picked me up at 2:30 in the morning to give me a few hours of sleep on her sofa.
The next morning, I got to see where all the magic happens in her studio before she returned me to the airport to begin my day of travel to Northern California via Southern California. I finally got home the next night, but this trade show showed me more than just some new yarns, it showed me just how generous people in this industry can be. It is definitely a trip I will not forget anytime soon.