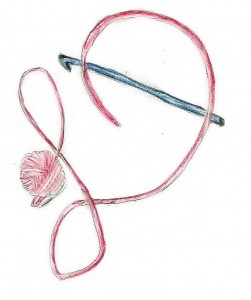 So, as my last post discusses, I went to the TNNA Summer Trade show in Columbus a few weeks ago, and received an awesome gift back from the Marly Bird Designer Dinner that I want to share with you.
Today I am giving away an assortment of yarns, not just any yarns but yarns have some unique personalities, such as Mango Moon Yarns Chakra. This yarn is made with some recycled materials while still being hand spun and proceeds help families in Nepal and Indonesia. But the most intriguing thing about this yarn is the pre-strung beads. I can admit, that the pre-strung beads are little intimidating for me, but after a little playing with the yarn I can state that it is really fun and easy to use. I would recommend rolling this hank into a standard ball and not use a ball winder to create a center pull, as the beads might get hung up and make a mess. I also found that for me the majority of the beads work themselves to the back of my work, so working in the round creates a wrong side fabric that is bursting with beads, while working back and forth rows creates a fabric that is a little more balanced with beads on either side.
The Mode Knit Yarn, Mode Werk FLOW is a fun gradient yarn; super soft and fingering weight. It is a fun long color change that has subtle blending so it is fun to create projects that really highlights your stitches while not leaving things feeling monotone.
There was also a second gradient yarn by Knitcircus Yarns. Greatest of Ease is also really soft and has a fun color change as well. I can really imagine projects that are either worked from the center out (like a hat or motif, so that the edges are a different color then the beginning) or a piece like a scarf of a shawl, that allows the top and bottom of the piece to be a different color.
Then Red Heart Reflective yarn makes an interesting statement. What makes this yarn so different is that it as a strand of reflective material twisted in the yarn. This does not make a really noticeable difference in the day light; it is just a nice steady color durable yarn. But when it gets dark, shine a light on it and the strand reflects back the light and almost looks like it is glowing. I know that projects for anyone that might go jogging or riding bicycles at dusk or dawn could benefit possibly with safety as vehicles should be able to see them better, as well as kids during the Halloween holiday.
Then the gift bag had fun little "taste samples" for Miss Babs yarn, a small sample of Kaweah (a DK weight), Hot Shot & Sojour (both fingering weight). These are great for getting to make a swatch or small motif, and see how you like the yarn, like a little test. I can tell you that they all have different properties but are all beautiful.
Dragonfly Fibers also provided a "taste skein" of Pixie ( a light weight yarn) that leads to an understanding of the yarn works up and gets your imagination inspired.
These yarns all have something different to offer, and I will be sharing a set of these yarns with one lucky individual. To enter, just leave a comment on this page about what unique yarns you may have used in the past, or look forward to trying in the future. One comment will be selected at random from all comment posted on or before Thursday July, 16, 2015. I will announce the winner via my Facebook page and Twitter the following day.