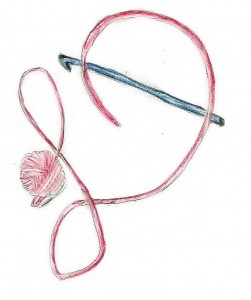 Thanksgiving is the time of year that Americans take a moment and ponder what they are thankful for, families and friends come together over a hearty meal and various traditions are followed. Some gatherings are small, some are large, but all are focused on those we love.
I wish that we took time more often to ponder our thankfulness, and personally try to do this at least once a week (okay, sometimes this actually becomes once a month, but at least I try). Over some of this ponder I have realized how thankful I am for crochet, and it may not be in a manner that you have thought about. I am thankful for crochet being my social lubricant. Don't misunderstand, I am quite a talker and can get into conversations that are no longer counted in minutes but hours and days, I can usually find some comfort in a room full of people that I have never met before, however crochet allows me to engage with some new people in a very different way.
By crocheting while sitting and enjoying the family get-togethers of the holidays, I can actually think before I speak (a trait that I always need to work on). I can crochet at my husband's work holiday parties and it becomes an icebreaker within a group of other spouses that may only see each other during these events.
Not only can crochet help me within situations I know, it opens dialogs in places I don't, such as the park, the coffee shop, the grocery store, the doctor office, actually just about anywhere. By working on some stitches it helps engage with others; people feel like you are approachable and want to understand more about what you are doing. It might bring back fond memories for them, or questions of how they could try and create for themselves.
By wearing my hook in my hair (yes, I do actually use a hook to hold my hair up) people might identify me as the "crochet lady", and that is alright, I wear it as a badge of honor, and have for years, because it opens different doors and helps me to connect with the larger world around me. So thank you crochet, for being my longtime hobby, and current career, that allows me to engage with the rest of mankind.