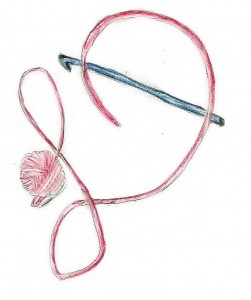 There are always subtleties that create a difference in yarn. One is something that is mostly taken for granted, the direction of the ply. This might seem like a moot point for a topic to discuss, as most all yarn is spun in a similar fashion, the individual strands are spun in a counter-clockwise direction, then plied together in a clockwise direction (this opposite direction of spinning creates the tension that makes a yarn stable). However, just because almost every yarn is spun in this manner does it make a difference if you spin in it reverse?
Essentially all yarn is spun in this method, sometimes referred to as "S" twist, I am not sure if there is any real particular reason for this except that it has been done that way. There are a couple of yarns available that are spun opposite of the "S twist", meaning that the beginning strands are spun clockwise and then plied together counter clockwise, this is known as "Z" twist. Yarns spun this way will indicate this on their labels, as it is a subtlety that differentiates it from others.
So why consider a "Z twist", there are those that find it reduces yarn splitting  for right handed crocheters, as the traditional method of crocheting the yarn overs can either add or subtract the twist in a yarn. As traditional yarn is spun with a clockwise finish, and right handed crochet yarn overs in a counterclockwise direction, twist can be taken out of a yarn causing it to split. So with "Z twist" being the opposite the right handed crocheter will add twist to the yarn.
Honestly, I have not noticed too much difference in my work between the twist directions, with the exception of yarns that are loosely plied together and thus unply, or split quite easily. However I do notice a bit of a visual difference in the way my stitches look, it is subtle, and if I wasn't really paying attention I may not completely understand why it looks different. This difference is because of the lines that I see in the yarn due to the ply. The "Z twist" lines are in the opposite direction.
Now that I have told you more then you hoped to know about the direction of twist within yarn, there is a yarn that I find I quite enjoy that is a "Z twist". Lotus by Designing Vashti is a 52% cotton, 48% rayon, fine weight yarn that is perfect for summer. I find that I create garments, wraps, shawls, and even hand backs out of this yarn. It has a nice drape, and I love the slight shimmer that the rayon gives it. For me it is this rayon that really allows me to see the "Z twist". I have used this yarn several times and have found that it really "blooms" after being washing, meaning that it fluffs up and fills in the space between stitches.
The combination of cotton and rayon make it perfect for warm weather, that is probably I always tend to pick it up in Spring as I am getting ready for the warm weather of summer.