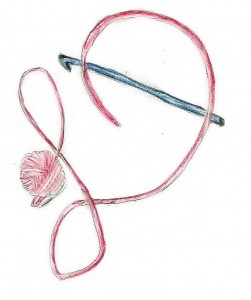 The end of July and the beginning of August was a time of travel for me. I spent time in San Diego at the Knit & Crochet Show, an annual conference for TKGA (The Knitingt Guild Association) and CGOA (Crochet Guild of America). This annual conference is a time of visiting with old friends and making new ones, a time for learning, a time for inspiration, and a time for furthering the passion for fiber arts.
I always enjoy attendance at this show, well it seems a little like going home since it was at one of these annual conferences that I began my career as a crochet designer. There are so many different opportunities and experiences that occur, that I am always finding myself not wanting it to end, and then looking forward to the next one (July 2016 in Charleston, SC). This year I helped my friend, Vashti Braha, with her first ever show floor booth selling her new yarn line, Designing Vashti Lotus. It was a fun experience and aided in seeing the show from a completely different perspective.
Following the show, Vashti and I took a quick road trip up the California coast, where we found a fun little yarn store in Cambria, CA, the Ball & Skein & More. It was warm and friendly, I loved how well organized it was, with portable, well labeled bins of yarn, that did not leave you feeling overwhelmed or mislead. It kept everything feeling bright and fresh. The shelves were even mobile as well, so the store could easily adjust its layout for workshops, or special functions. It was a great visit after an Asian fusion lunch and before the visit to the little French bakery just down the street; definitely a place to visit again.
After getting home, it was time to get on the road again with my family for a quick vacation. We drove further up the California coast to the quaint town of Mendocino, CA, just south of Fort Bragg. We love visiting this little town; my kids are even looking forward to our next visit. My son has been enjoying the skills of woodworking, so we visited a local art gallery that was featuring local woodworking artists, where my son was greatly inspired by what he could create in woods. Inspired enough that we stopped by another artisan shop Anderson's Alternatives, where the owner was discussing properties of different types of wood and what he has created with them. So as a souvenir of our vacation my son decided that he wanted to bring home small slabs to create with.
My daughter, in her learning to knit adventure, was enthralled with the ever charming Mendocino Yarn Shop. I love this store. They are so friendly, and have a very nice assortment of yarn, as well as the knowledge to educate and answer any question a patron might have. There is a nice seating area that always is clamoring with various enthusiasts, that of course after my daughter found her "yarn souvenir" was exactly where she wanted to be. Of course she talked me into some new needles and some fancy yarn, I guess I might be a bit of a sucker in this location, as I understand the obsession all too well. Anytime I am in the area, I have to visit this little store….okay, anytime I am in the area of a yarn store I at least have to take a look and possibly sample what they have to offer, it is only polite after all.