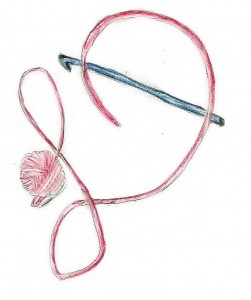 To find something in crochet that I have never seen before takes some doing, but I was fortunate enough to have one such product find me.
The Groove by Chetnanigans is a hand crafted tool designed to make the creation of broomstick lace quicker and easier. My understanding of its origins involves a woodworking husband fulfilling the dreams of his crocheting wife. This couple has created many creative products to fulfill the needs of crocheters including, but not limited to; hook and notion organizers, blocking boards, and hair pin lace looms. But the groove is something unlike anything else I have seen.
Sean and Holly of Chetnanigans reached out to me earlier this summer, after noticing that I was teaching a Broomstick Lace Technique class at the CGOA national Chainlink conference. They asked if I would give the Groove a try and give them some feedback. Well I found it unique enough to even share it with my students, many of which ordered their own.
Traditional broomstick lace has been done with a knitting needles. By working loops over a knitting needle and then working the loops back off to create a stitch that sometimes is noted as resembling the eye of a peacock tail. One of the biggest drawbacks to this techniques is that it is a bit awkward…it feels like you need a third hand to hold everything.
The Groove addresses this issue by putting a base on the "needle" so that it can actually stand upright on a table, so simple it becomes a "why didn't I think of that?" kind of thing. However the Groove doesn't just stop there, it then has…well…a groove at its tip. It is this groove that sets the Groove apart.
A crochet hook slips into this slit and under the loops that have been added to ease the removal and really make the process faster. When using a traditional knitting needle you move these loops to the tip and work your crochet hook between the loops and needle, it is not particularly difficult, but it is a slow process when compared to using the Groove.
The Groove is equivalent of a 25mm knitting needle, or in other terms has a 1" diameter shaft, so it is a perfect size for light to medium weight yarns. It has a nice weight, not feeling to light or flimsy or to heavy and clumsy. The only drawback I have found is that my kids think it would be a great spike to kill vampires or even club someone, so I have to keep an eye on its location to ensure that it is only used for its intended purpose. But if I find some vampires I guess I am prepared, and in the mean time I will have a great time crocheting up some broomstick lace.