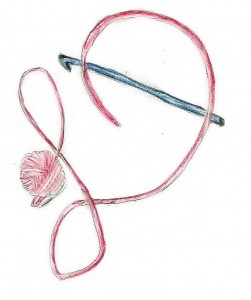 Looking back it seems like I always find myself in this place every year…Autumn. The time of year that apparently has the calendar skipping weeks on me, as I really do not know where the time has gone, while making me feel like there is a ton of things I need to get done in a short span of time. I guess it leaves me overwhelmed, exhausted, and feeling like I have many unmet responsibilities.
So in all this I guess I should be really thankful that I have managed to release not just one, but two new patterns!
Lisa Souza Dyeworks is releasing a few new yarns, and being a designer means that I can sometimes get my hands on this yarn early to create some new ideas. As was the case with Nyam (a Superfine Merino and Cashmere fine weight yarn) and Pyrenees Bulky (a 100% Organic Merino yarn) I was able to create a 1 skein project that is perfect for the holidays.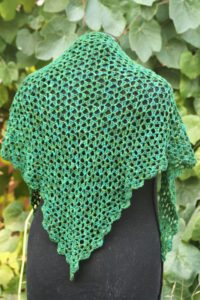 Nyam lent itself particularly well to my new pattern, Contextual Shawl. This shawl is a simple one row repeat that can really flatter almost any yarn, of any weight, of any size, any fiber content. The size can easily be adjusted to make it larger or smaller, and yet to look at it the pattern is not readily apparent. It works up fast and can be used as a project on the go. I can see this in so many different colors and styles that the possibilities are endless.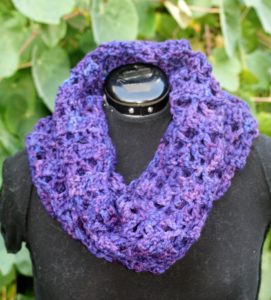 Matrix Hooded Cowl worked up great in Pyrenees Bulky. I have not made a lot of cowls in the past, but I can see the appeal. This cowl is again a one skein project that is nice and wide, and the perfect size in my opinion to warm the neck and offer protection form the cold as a hood. The pattern actually has a mirroring quality to it, as halfway across the row you work the mirror image of the beginning. It is a 4 row repeat that has a bit of fun with stacked shapes. Don't let the open spaces fool you, paired with this yarn it is quite warm, making it tighter might just make it unwearable.
As a special offer to you, as a reader, please enjoy 50% off either of these patterns at my Ravelry Store for the next month (They will be only $2.00 then on November 30 the price resets to its original $4.00). Enjoy your quick paced autumn season.
Links: