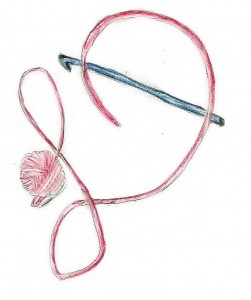 From my trip to the TNNA trade show I got to check out some great products, some I am awaiting to be shipped to me, but I did however bring home a bead crochet set from Tulip hooks, as well as some stitch markers.
I have already put them to use on a new design that I am working up, and let me tell you I LOVE them. Tulip makes a great product that feels comfortable to use and there is a lot of thought put into them. Things that you will take completely for granted. Things like the balanced weight of the hook, and the shape of the head, to how it fits in your hand. With the bead hooks, they even have a cover that slips over the head of the hook, this is a benefit. Often times these small little hooks tend to snag many things quite easily, and the simple cover prevents this.
The sizes are clearly marker, in numeric sizing and metric. One of the things that stands out for me with these is that it is an ergonomic handle and hook that can be used for thread crochet. I have many steel hooks, and see many large handled crochet hooks, but I cannot think of when I see them in thread hook sizes. These hooks do fit that need.
I love the zippered pouch that the set comes with, it hold 5 different sizes and has an extra pocket to hold, in my case beads, but it can hold stitch makers, yarn needles, just about anything that you may need to have at hand. If you do any thread work, or work beads into your crochet I would recommend that you check them out.
Check out some of Tulip hook at Designing Vashti.