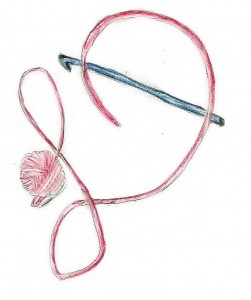 It is so refreshing to realize that there are many supportive and encouraging people in the world, even in the world of business. I am sure that this experience is not limited to just crochet and its related industries, but it is the experience I had last week at the Knit & Crochet Show in San Diego, CA last week that will leave a lasting impression.
My friend, Vashti Braha of Designing Vashti, was putting together a booth for this convention to make a public debut of her yarn, Lotus. There is much that goes into putting a show booth together, more than the average consumer realizes when they go shopping. During the time and planning, and figuring costs of materials and shipping, I was also speaking with another good friend to me, Lisa Souza of Lisa Souza Knitwear & Dyeworks. Lisa has been selling her yarn and working convention booths for nearly 30 years, and generously offered her suggestions and was even generous enough to share material for the booth set up, supplying all the grids that created the Designing Vashti booth.
Now just that would have been generous enough, one small yarn company aiding another in selling their product, but then there was more. Tulip, the needle and hook company from Japan, also needed some display material, and Designing Vashti shared her supply with them to help better display the product; and then when Tulip was unable to accept credit cards Vashti offered to assist them.
It may not seem like much, but to me it is a breath of fresh air to see that these small businesses are open and willing to assist other small businesses, I know they already be friends of mine, but the fact that I respect the business practices they display endears me to them even more.
So if you are looking for some great yarns, or crochet products, please consider supporting these ladies that offer support to others.