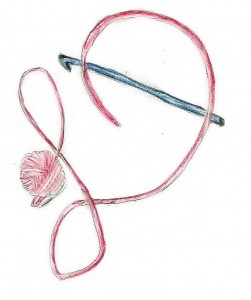 Designs come to me in many different ways. Let the Lace Go Top, actually came into being because I wanted to wear it!
The summer of 2015, my good friend Vashti Braha was debuting her yarn, Designing Vashti Lotus to the world in her first show floor booth. I wanted to support her, and since I really like her cotton/rayon yarn, I wanted to make something for myself to wear.
I began working the vertical body, and almost had it together, when I received a call for submissions for Crochet! Magazine. Even though I liked the top for myself, I decided to submit the idea to the magazine. Ultimately it would benefit my friend more to have my design shared with the world, so others can see what a great yarn she has.
Ellen Gormley loved the top, and so I set my personal top aside to complete the project for the magazine. It 8is now available to you in the Autumn 2016 issue of Crochet! Magazine.
I think it came out great! I like working the fabric vertically as I feel it lends itself to a more slimming line, and the lace on top gives it a lighter feel. There is some interesting construction in this design, as you work the solid body first, then begin the lace in to round. After the lace is a couple of inches long, you attach it to the solid body and continue toward the neck, working in decreases to come over the shoulders to the neck.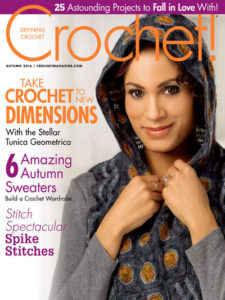 I added beads to the lace edging, as a little extra highlight, but also for the practice purpose of helping to keep the lace draping in a manner I like.
Personally I love the color, but it can easily shine in any color. I still haven't actually finished one for myself…but hopefully soon…it just happens to be another project that is resting on my hook.