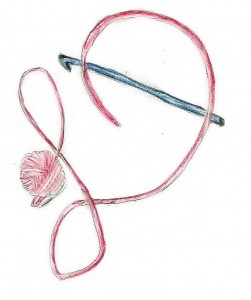 It is not often that I find something that can inspire and challenge me, but the latest book by Brenda Bourg has accomplished this. Fair Isle Tunisian Crochet gives explanation even a beginner can follow while giving create insight for even seasoned crocheters.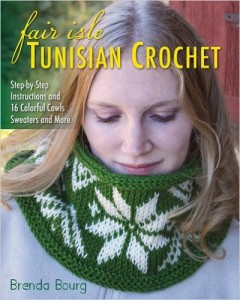 This technique and project book takes Tunisian crochet into the direction of a classic knitting style. It addresses the history, as well as color theory to ensure a successful project, while empowering you to make each project your own. There is an entire section that helps you understand and utilize the benefits of the color wheel and demystifies how to get a good combination of colors to find a that balance of compliment and contrast that allows fair isle to highlight your hand work will being pleasant to the eye.
One of the features I really appreciated was that the author speaks to you in practice terms. She addresses problems that you may, or will, encounter. You begin a project already understanding challenges that you may face, it is like a good friend is walking you through the skill and giving you all of the tips  and tricks they found on the journey to make you trip even easier. When you realize that your tension may be off, she has already addressed this and you know to keep an eye open to a certain things, and how often to check your work. It gave the book a very practical and friendly feel. I never felt that the skill was only addressing some crocheting elite, I felt that I could share with book with a beginner crocheter and have them feel comfortable practicing the skills.
The author even addresses how your fabric will actually feel when completed, and how to properly block and finish the pieces, explaining why it is important and the applications that may be necessary. It speaks to you on an everyday level and does not just explain how to work the technique but how to make it successful. The projects vary in difficulty to help you build your skills, and it even gives you a sampling of how variegated yarns can add a beautiful touch to this skill. The variety of the projects have a little something for everyone, accessories, home decor, and garments all offer a gradient skill level and the author offers her perspective on what you can expect to gain from each.
If you are interested in trying something new, maybe even take a new approach to color, this is s book you will appreciate. You can purchase it by following this link, and fortunately I am able to share a copy with one reader. All you have to do to check this book out for yourself, is leave a comment about which colors you like to put together in projects by the end of the day, Monday, March 7, 2016. One comment will be selected at random and will a copy of the book (unfortunately this is only available to those in the United States, sorry but it is the shipping restrictions from the publisher).