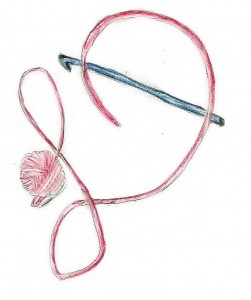 One of the things that I really enjoy about crochet is that it has so many possibilities. When I began crocheting I created scarves and Barbie dresses, then I worked afghans….many, many afghans. I really didn't even begin to make hats for several years as I was a little intimidated with working in the round and the working it straight, I was fine with the flat circle, but the contours of a hat use to intimidate me. I think I may have made my first sweater before my first hat, not much before, but before. When I realized that I was just creating fabric garments became my new go to, (and I include shawls in my garment category, as it took me a long time to place a shawl in my personal wardrobe).
Looking back on my time stitching I can see certain trends, however I never really got into the trend of doilies or toy making. However, I find myself taking inspiration from the work of classic thread doilies and applying it to some of my current designs and at the prompting for some of my crochet students I have been investigating some Amigurumi.
In playing with the techniques used to create toys, I have made up a little puppy. BBD (Baby Brown Dog as it is affectionately referred to in my home), is created with 2 skeins of Plymouth Baby Alpaca DK yarn, so it is really quite soft and cuddly. This stitches used are simply single crochet, with the only challenge being the Magic Loop beginning (that can be substituted if desired with alternative circle beginnings). Simple increases and decrease are worked for the overall shaping. The paws have a little special touch of having nickels added to give a little weight to the legs so that they always want to hang downward (so it can be recognized as a 20¢ puppy).
I may not be someone that creates things like this often, but I will admit, this little dog has gotten to me, and even I enjoy cuddling with it. Sometimes working on things outside your everyday comfort zone can inspire new ideas, BBD already has me things…I wonder where this journey might take me.
If you would like to take a journey with BBD you can find it on Ravelry and Craftsy for only $5.50 US.