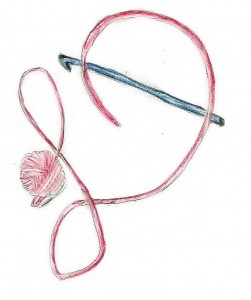 This is actually a first for me. Now I have made what seems like a gazillion afghans, I have designed several, but Transmute Square really is a first for me; It was designed specifically with hand dyed yarns.
Why does that make it so different, well for starters most people feel like hand dyed yarns are out of the price range, and thus an afghan is really not affordable. So I managed to create Transmute with only 6 skeins of yarn.
The unique thing about this yarn, Lisa Souza Targhee, is that is 100% Targhee wool. Targhee wool is an American breed, please note America is not known as a very large producer of wool, most of the world's wool comes from New Zealand and Australia. Yet Targhee is a new heritage breed in the United States, so for me, it is local. Granted being 100% wool it may felt, so it care for it I use the delicate setting on the washing machine and I hang it on the clothes line to dry (or you could use the dryer with an "air only" setting, or little or no heat). This yarn will create a throw that is warmer than its acrylic counterpart, even with open work.
So aside from the yarn characteristics, the fact that it is hand dyed creates a different effect in designing, the color repeats of this colorway, Deep Sea, is subtle, but as with most of these yarns the color repeats are not exceptionally long. I broke up these little sections of color with open work, to allow the eye to continually find visual interest.
Created with miter squares, this throw is completely join as you go, so you do not have to sew any squares together. This allows for a carefree kind of project, in a design that can easily be used in a masculine or feminine setting. By varying the square size this throw has a dynamic impact on its surroundings while having a very modern flair.
So consider opening your experiences to some yarns that you may not have thought of, you never know what gem you might find, and check out my Transmute Square pattern to put them to use.