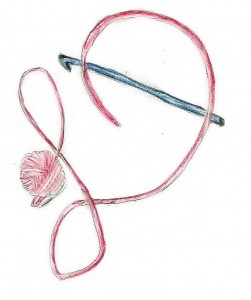 The Pinwheel Blanket is one that takes a little different approach then I usually do; it is comprised of small motifs that make a larger motif, then joined together. I will admit, I usually think a little more simplistic, I have a motif and that motif gets joined to other motifs, so making a motif out of motifs…well that is like an ah ha moment.
I did not make this realization on my own, I had help. I often believe the best designs come out of a collaboration, ideas always grow when you listen to others…sometimes for the better, like this one. I had worked the smaller motifs together, mostly to see how they looked joined together as I think the join point creates a really interesting effect. It was the editor of Crochet Now that mentioned that the block created looked great just as they were and should be treated like motifs, this allows the join point to become a highlight.
This collaboration has opened my eyes to many different attachment and joining, sometimes it just takes a different view to open up a new world.
So about Pinwheel Blanket, the initial small motif is only comprised of three rounds, so it works up quickly. It grew from a flower, and I feel it has a floral feel. It is at the join point that I see the pinwheel, with a feeling of the whirly-gigs I have seen in the garden. So I guess in a sense this throw has a garden feel for me. With flowers and whirly-gigs it does have an outdoor feel, and even the colors are bright like flowers.
Each small motif is joined to create a square that is the bordered with a main color and joined to other squares, this creates a patchwork and rustic charm while in keeping with garden feel. This is a great project that can be worked as a portable, take on the go and create a fabulous blanket. Check this design in Issue 10 of Crochet Now.