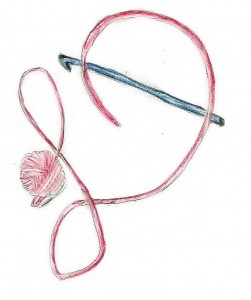 I really enjoy putting some classic stitches together in ways that you may not have considered. My latest design does just that. The Hourglass Waves Baby Afghan uses the Catherine Wheel Stitch to create a ripple and an hourglass appearance.
It is really the color work that makes this design come to life, and believe it or not, the color really do have an order to their repeating pattern. However the various stitches can through off this simple pattern creating a great visual interest. It is obvious that this is not your everyday baby throw.
Featured as a design in the latest issue of Crochet Now Magazine, issue 13, this blanket is one that does not just mark itself as something for a baby, it can easily grow for a toddler, a child, and created larger a great design for a teen or adult. The next opportunity I get I think I may make enlarge my own and make a version for my son. I really think he would love it in primary colors.
Sometimes people can hear the stitch pattern Catherine's Wheel and instantly get a bit fearful, but this stitch pattern is not as difficult as you may think. Essentially it is a row of large shells, or fans, basically a large number of double crochets (treble crochets if you happen to be in the UK), worked min the same location. This is worked across a row and the following row is essentially a large decrease, worked in between the shells, pulling up loops in each of these stitches, making the fabric edge straight again. This blanket utilizes this very technique, but then highlights the shapes it can create with rows of single crochet (double crochet in the UK).
I love how the pattern is not something that you see every day, it has dimension and character.  I hope you find this design inspiring too.