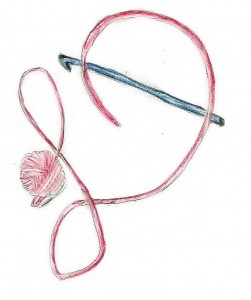 Crocheting for a Difference, to me is a way to use my skills to benefit others. One of the drawbacks to being a Freelance Crochet Designer is that I do not get the direct feedback that I use to receive when I worked in the field of Social Work. It can be a bit isolating working from home, and not sure if you are making a positive impact on the world around you. So I crochet to help benefit others.
I have made countless scrap afghans and throws for a multitude of outlets and charities over the years. Even when I was staying at a city for only a short time I found places that could benefit from the hand skills of crochet. I have decided that I want to help encourage others to find a way to make a difference locally, so I am planning to share some stitch patterns and some ideas about places in your local community that might benefit from your crochet skills. I am calling it Crocheting for a Difference.
Today, I am sharing a basic V stitch pattern that I enjoy using to create a fast fabric. After establishing the first row, it really becomes pretty mindless, as you work the V stitches in the chain space created in the V stitch the row below. I usually work the entire length of the scrap yarn, and then change to the new color or skein, regardless of where I am in the fabric. This does cause color changes in the middle of a row, but I think it adds a nice rustic feel, but it can easily be a solid color, or stripes.
To begin you create a chain as long as you like (if you want Row 1 to work up without any extra chains, then crochet a chain that has a number of chains that is a multiple of 3, then add one more chain). Please note I am writing this stitch pattern in US standard format.
V stitch: (Double crochet, chain 1, double crochet) in the indicated location
Row 1: V stitch in the 5th chain from the hook, *skip two chains, V stitch in next chain; repeat from * across, double crochet in the last stitch, turn.
Row 2: Chain 3, V stitch in each chain-1 space across, double crochet in top of turning chain the row below, turn,
Repeat Row 2 until it is a desired length.
After creating an afghan in the stitch pattern consider donation to a Crisis Center, in some places known as a Women's Center. Aiding those leaving domestic violence situations. Often when someone is leaving a volatile situation they leave with almost nothing, or nothing at all. A throw, an afghan, a scarf, a hat…all can help to begin a life anew.