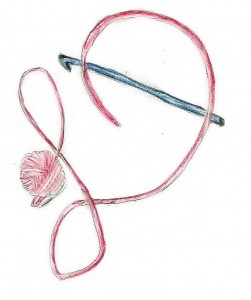 I may have mentioned that my local yarn store, Lofty Lou's recently sold to a new ownership group; a group of 26 ladies that loved the store and wanted to ensure that it did not close. This change in ownership has given me many opportunities to see the industry from different points of view. I have been teaching various individuals how to crochet as well as various aspects of yarn, all while observing the challenges that running this small store take on.
One of the interesting opportunities has been the need for the store to have crochet samples. They wanted to feature my designs, but I had no patterns in the particular yarn they had in store. Fortunate for me that they wanted a new design worked up in Mountain Color Yarn, so I was eager to undertake a new challenge; what could I create with only two skeins of Crazyfoot?
So after some playing the Shards Tunisian Shawl was born. It utilizes Tunisian stitches with short rows for an effect that is stunning. The varying of the stitch types in the sets of short rows allows the color way to offer a completely different appearance, almost like it is dancing. I had the unique opportunity to meet the dyers, and found that one had a connection to my little home town; her son owned a restaurant on Main Street, and made the travels from Montana to Northern California to visit her new grandbaby. So in a sense I feel this yarn has a local connection, and I always like to support local.
I have released this pattern for sale on line (Ravelry & Craftsy), while the sample adorns the store and brings attention to the beauty of the yarn. If you feel inclined check it out. I am very pleased with its results…if only the photographs truly captured the personality it has, you could fully appreciate its wow factor.