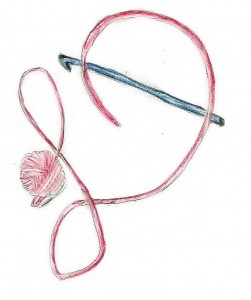 This is a busy time of year. All the work that filled my days at the end of summer is now making its way onto the newsstands to be enjoyed!
The special issue of Crochet! Magazine, Quick & Easy Crochet Accessories features two of my new designs (one if actually featured on the issue cover!), and I thought that I would share some of what went into creating them.
The first one, the Blossom Spins Wrap, grew out of some playing I was doing with the picot stitch. The picot is usually noticed in edges and is created from a set of chains that are slip stitched back to the same base stitch. This creates a little nub, or dot, along the stitch pattern. I was attempting to see what other secrets this little decorative stitch might hold. In doing so I made the chains a little longer and now created a loop that could become the foundation for other stitches! In the case of the wrap these picots hold a shell stitch that allows for a subtle wave, making these square motifs appear more like diamonds.
The other real charm of this design, the color work, is all done by the yarn. Both of these designs I am discussing are created with Deborah Norville Serenity Garden Yarn, it is a light weight yarn that is silky and soft. It comes in a wide array of color ways and creates lovely striping, and in the result of the motifs, creates a beautiful speckling of color highlights.
The other design, the Flowers on the Beach Bag, came into being from the flowers. The flowers are a design that I have played with, creating the petals large and wide in just a single row, and then basically outlining the edge of the flower by working a round of single crochet directly on top. I have found that I really enjoy these flowers, and they, like the motifs in the wrap, offer a great way for the color of the yarn to create a fun dimension. The mesh bag that the flowers are worked onto is quite simple and easily collapses, not taking up much room when being stored, but then can readily carry all the necessities for a day at the farmer's market or a picnic at the beach.
In retrospect these designs really sing due to the color of the yarn, the structure of the designs themselves hold a good positive and negative space, but the color is what catches your eye and draws you in more. I might have to play with some more color changes and see how that can affect the outcomes of designs that I feel are missing something….you'll never know when the right combination will come together.