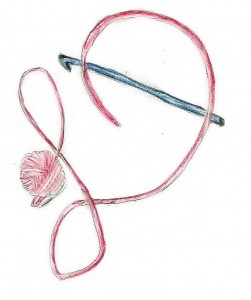 It seems like it has been a while….but I have a couple of new patterns released! These have a "beachy" theme and were inspired from a conversation.
By friend Vashti Braha, of Designing Vashti, was pulling together everything it takes to do a booth at the annual conference for the Crochet Guild of America, the Knit & Crochet Show, in San Diego, California. She began her own yarn line Designing Vashti Lotus Yarn just about a year ago, and was eager to take on this new challenge.(If you want my thoughts on this yarn, you can find it here.) While we were chatting about the booth Vashti expressed how she would love to have some beach like items available in the booth, it sparked some ideas and now here they are!
The Sun Twirl Cover Up is worked up as a simple square of filet crochet and has minimal seaming, creating a fast and fun cover up for a day at the beach or time beside the pool. It is written for sizes S-2XL, and the Lotus yarn is great with it. The color is bold and the yarn has just the right amount of cotton to make it comfortable, while the rayon adds some drape and shine. The swirl pattern is one that I have played with for a long time. This top has actually been in my mind, finding a way to be created, and fortunately the opportunity was presented. I like the swish of the lines as it helps to flatter many body types and shapes. This pattern is currently available on Ravelry for $3.00.
What beach ware is complete without a bag? This Quick Outing Bag is another fast work up that has nice stretch, but not too much. It has a slight color play with some spike stitches, and it really lightweight. It can squish down to a small ball, yet can hold a couple of beach towels. So, in other words, it stores away well when not in use. It is also available on Ravelry for $3.00. 
So while summer still has a grip on the weather, whip up one for yourself.