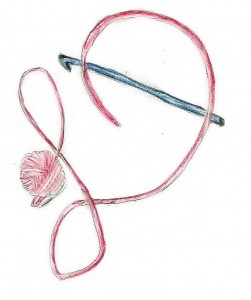 Cashmere has been a term that signifies luxury for a long time. I remember watching some 1980's movies where the character wearing the fuzzy cashmere sweater was the rich either miss understood teen or self-centered antagonist. I always see it in my mind with the big hair of the decade, and thus have felt that it was a wealthy fiber well out of my realm.
Learning more about yarn and fibers I have found cashmere a bit of a misnomer, it is a fiber from the underbelly of a goat. What makes cashmere, well cashmere, is the micron count of the fiber has to be 19 or finer, with less than 3 percent by weight of fibers exceeding 30 microns. Basically it is very thin in diameter. The length of the fiber also must be at least 1.25 inches (3 centimeters) and meet a specific crimp structure (have a certain wavy pattern).
Some of qualities of this fiber are readily seen in Lisa Souza's Cashmere Sport yarn. Cashmere holds its shape well yet is springy. It is very light weight, with a lovely drape, and is incredibly warm. One of the most noticeable feature is that light does not reflect from this yarn, it appears more like a velvet and absorbs the light. This may be one of the factors that gives it a luxury quality.
As the fibers are so fine it is extremely soft. This is definitely a yarn that I want to snuggle with. The Sport weight skein provided from Lisa Souza Dyeworks is available in a 2oz/200yrd put up, just enough for a set of fingerless mitts, a hat, or a scarf. (I have a free pattern featuring this yarn in a Tam here). This yarn has a soft stitch definition and thus any really heavily textured stitches might have a soft edge then you may be have with. It can easily support a lace design, and does not demand too much attention to itself, allowing your handwork to shine.
I still consider this fiber a bit of a luxury, even if you can find some wools with a finer quality fiber, and thus being softer then cashmere, cashmere has a certain halo about it that when added to the light absorption, just has a look and feel of something that is unlike anything else.