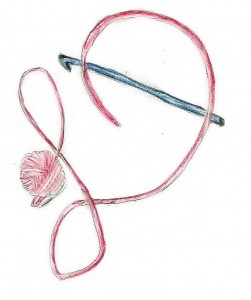 I am always on the lookout for yarn that inspires me. Sometimes this is color, sometimes this it texture, but regardless it needs to be good quality. Anzula Ava certainly qualify in this part.
Ava is a sport weight yarn, which is 80% superwash merino (meaning it is a soft and warm wool that will not felt), 10% cashmere (adding to the softness and warmth) and 10% nylon (giving it added strength). One skein offers a generous 330 yards/301 meters.
I really do love the feel of this yarn. It is soft in the hand and lighter in weight then it appears to look at it.  It has very little halo, no real springiness, but instead offers a really nice stable 3 ply yarn. The twist is tight, and creates a nice round yarn that I do not usually find in typical 3 ply yarns. The Merino and Cashmere really play nicely together, creating a fabric that is very soft in the hand. It is surely a fabric that you would like near the skin, even though it is soft, it is still sturdy and durable. I consider it a reliable yarn. I know that it will bring its best to my project and will enhance any project that I put it to use in.
It seems to wear well, meaning that it does not pill or stretch out of shape much. It has nice stitch definition, the only thing that moves your eye from the definition of the stitches is the way to color smoothly transitions through subtle hues in this hand dyed yarn.
I would consider this yarn one for special projects. It makes great accessories, like hats and scarves, but can easily make up gloves. I would love it in a sweater or shawl, a nice cardigan, anything that is you would love to treasure. I highly recommend playing with this yarn, you will enjoy it.