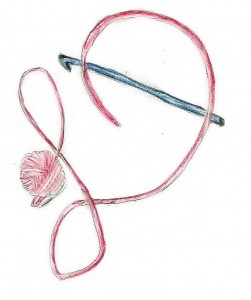 There are a couple of stitches that always seem to make their way into my work. I find that I create multiple projects using them, and still I never tire of working them. My latest design from Manos del Uruguay and Fairmount Fibers, Pechin, falls into this category.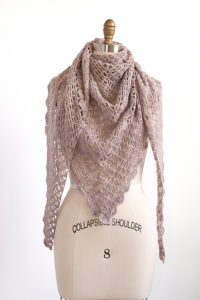 This shawl is worked from the center of the neck outward, utilizing a simple chain and single crochet combination. I find that this stitch allows that yarn to really be the feature. It creates a light, airy fabric that embodies the yarn to go as far as it can. By this I mean that you can go a long way with just one skein. As an example, Pechin is only a 2 skein shawl (using Manos del Uruguay Milo), and a really good sized shawl at that.
For Pechin, I broke up the chain stitch pattern with bands of shells. This creates a visual break as well as a bit of dimension. The bands gradually space further apart in this design to help keep the flow balanced, and I feel it helps give a really classic look.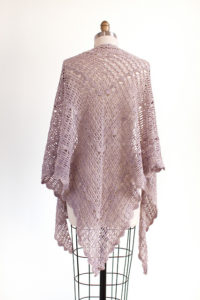 I have to admit, I could work this shawl over and over again. The stitch pattern has a nice rhythm, and just enough details, at just the right time, to keep it from getting boring. I also feel that it really has a beautiful balance between the design and the yarn, they feel at harmony with one another as neither over powers the other.
Okay, that might seem a bit wordy or dramatic, but what I mean is that it is a pattern/design in which you can appreciate both the yarn and the design at the same time. I have spoken in the past about how you select a yarn or pattern to bet let one or the other be a highlight, like not using a variegated yarn in a design that is heavily textured, as the yarn will win over the design (read more here). Pechin however, has a balance that allows the yarn to shine as well as the design, and this is true even if the yarn is variegated.