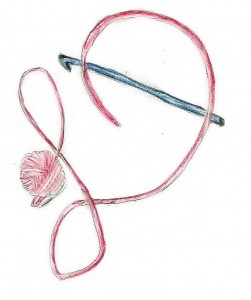 Sometimes a design takes month to develop, multiple practice attempts and hours of thought and planning…others come together like magic. The Royal Blooms Shawl in the October 2017 issue of I Like Crochet Magazine is the latter.
This shawl is really great to work up, a relatively simple pattern of V stitches and Shells that yields stunning results. The stacking of these stitches creates an almost jewel shape effect, that lends itself to royalty. While the negative space created shares a bit if a peek-a-boo quality. This is a great quick gift for a friend or loved one, or a special treat for yourself. It can take you from dress to casual fairly easily and thus is an excellent addition to any wardrobe.
One of the things I really loved about this shawl is in the yarn. It is worked up in Ancient Arts Reinvent Too.  This Wool/Mohair/Silk blend yarn is one that adds enough warmth to utilize this shawl for the crisp evenings of autumn, yet comfortable enough to wear in the mid-day sun.  This yarn is listed as a worsted or medium weight yarn, but in the hand I think it works up more like a light or DK weight, so this is not a shawl that is as light or wispy as a feather, but has a bit of substance to it. There are several color ways available, so it can please just about everyone.
I wish I had a better story to tell as to how this shawl came into being, but honestly it just fell right off the hook without my even thinking. Part of me thinks that I cannot even claim ownership of this design as it came too easily, so I hope you will enjoy creating your own and making it a new staple in your life.