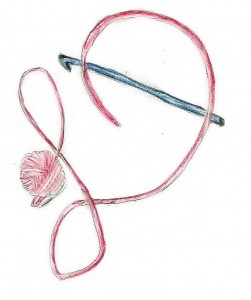 Sometimes you can stumble across a yarn that can just make you think a bit. It might have an interesting color, a different construction, an unusual ply or twist, or in the case of Ancient Arts Yarns Reinvent Too for me it was the fibers that it is comprised of.
Not that the fibers used are all that unusual, it is more that I do not know if I have seen them put together in this way before. It is comprised of 49% Wool, 34% Mohair, 11% Nylon, 4% Acrylic, 2% Silk, so at a glance I can tell that it is going to have some warmth, some strength, some softness, and some durability. I cannot recall seeing wool combined with mohair, and having an addition of silk. These are all natural fibers with varying qualities to provide nice yarns all on their own, so often I see them highlighted in a skein where they alone are the shining star and there might be some other small contributors of support.
I guess the part that threw me the most was the large amounts of wool and mohair. Wool I have seen everywhere, but mohair I usually see in yarns that allow its fine quality and natural halo be the defining quality of the yarn. This is not the case in Reinvent Too. The mohair is a work horse of sorts adding its softness and warmth to this blend.
This yarn offers a very nice stitch definition, and even though it is listed as a worsted weight, I feel it is on the lighter side of this definition and would personally treat it more as a light weight or DK. It is not quite as soft as I would have expected, but still pretty nice. It may soften up after a hand washing, I have not tested this theory however. I think that it would work up nicely as a shawl, or a cardigan or jacket. I don't know how well I would enjoy it as a scarf as it seems a bit rough to the skin on my neck, but a hat would probably be fine. I could also easily see this creating a small throw, it would easily work up great for spring and fall temperatures.
The color selection for this yarn is beautiful, as is normal for Ancient Arts, so you could definitely find a color to inspire you. The hanks have 198 yds/180m per 3.5oz/100g skein, that may limit it to small yarn projects, but I think you may be pleasantly surprised with it.