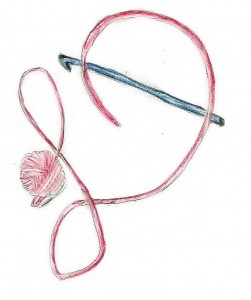 So if you have been fortunate enough to receive a limited edition crochet Jimmy Beans Wool Craftvent for 2018, I thought I would share some tips and insight behind the design. Note: This kit sold out and is no longer available on their website, but it doesn't hurt to call and see if one may be hiding in the back. (If you were unsuccessful obtaining one, read to the end and I will share some insights to making your own).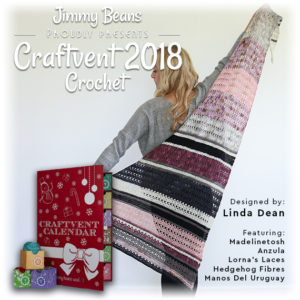 To begin with the shawl starts at a point and increase on one side until it becomes a large triangle. The first couple of rows might be the most challenging, especially since it is small and there is not much to hang on to.
The first row, essentially becomes a "V", ensuring that all odd number rows will be worked in a "V st" pattern. The even number rows are simply double crochet stitches worked into all the stitches and spaces across.
To help you keep an accurate row count, the number of "V"'s will increase by 1 every time you work this row, while the double crochet row will always increase by 3 stitches. So if you had 3 "V" stitches in row 5, you will have 6 "V" stitches in Row 7, while if you had 10 double crochets in Row 6, then you will have 13 double crochet stitches in Row 8.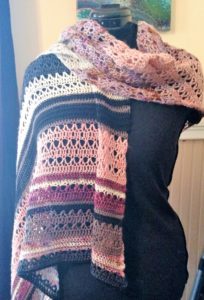 Also the increase are worked on the same side as the color changes, keeping all the pattern differences on one side of the work.
While this "V" stitch/double crochet row repeat makes up a vast portion of the design, the smaller rows of back loop single crochet stitches are always worked in pairs, and there are no increase worked in these rows. This little stitch pattern adds a great contrast in the fabric, not only visually but texturally too.
This entire kit is based upon the redesign of my Quest Shawl pattern, so if you were not able to get a Craftvent the closet to offer is the Quest Shawl pattern. The main difference in these designs is actually the color blocking. Quest has only 2 colors, while Craftvent features 8. If you want to purchase these yarns and thus make your own color blocking from the Quest Shawl, here are the yarns:
You can order a skein of each from Jimmy Beans Wool and create your own color blocking effect.
I will admit, I was so excited about this project that I purchased a kit myself, and am reworking the shawl again day by day in the calendar! You can follow along with my progress at my Facebook Page or Instagram.
Hope you enjoy this process as much as I am!