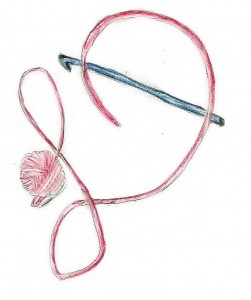 I have been meaning to write a post about my experience at the Crochet Guild of America's annual conference last month in Charleston, SC, but I keep putting it off. I finally have realized that it is because it was too overwhelming, so I have decided to break it down into more "bite size" posts.
There really is really just so much going on at this conference that I could not participate in everything, and feel like I hardly saw anyone, as I was running from event to event. And another confession, I was horrible at getting photos of, well anything…
So I left a month ago for Charleston, SC, and have new found respect for air conditioning. Living in California I live through days of hot temperature, but the humidity is something that I do not experience. Deplaning at 1:30am and finding that it was 85° F and 55% humidity outside, was a completely new experience for me. California nights cool off while we drink water, not breath it. Even though the hotel and conference center were only a couple of blocks from dining options, I did not venture out, physically I never really adjusted to the climate.
However I arrived a day early to ensure that I would be up for my new adventure of teaching at this national venue. I was officially teaching 4 classes; Re-Invented Broomstick Lace, What the Pattern Doesn't Tell You, Yarn Overload, and Beads Three Ways, yet in addition I also help teach all day at the Master's Day. These all over the course of 4 days are a bit of mental gymnastics, I become completely submerged in all things crochet, even more then the everyday.
The Master's Day was the first event. I helped facilitate this all day event with other reviewers of the Master's Program offered by CGOA. The Program consists of 48 swatches and 13 questions that is completed via correspondence, I successfully completed the Masters of Advanced Stitches and Techniques in the summer of 2010. Essentially it was this program that began my career in crochet design, and teaching, but that is another story. Since completing the program I have been a reviewer critiquing the work of others, as well as help organize and teach the Masters Day at the annual conference, with the one in Charleston being our third such event. In addition, I am currently combining the work of many talented teachers and writing a new Master's program, so in a sense I am completely immersed in all things Masters.
I believe the event was successful, and I even came away learning things myself. The students began applying the various techniques that were taught; linked stitches, foundation stitches, gauge, finishing work, reviewing your work and such, while they were coming up with new ways to approach all of these techniques I had an eye opening moment of how Tunisian Crochet is really just linked stitches combined with Foundation stitches. It is amazing how much of crochet is built upon other skills that are really just other versions of the same other basic techniques.
The other highlight of this day was getting to catch up with some of the other reviewers that I only get correspond with via email. They really are a great group of women that have a great passion for crochet, and I always find time spend with them to be rewarding.